Now Page
"My NOW PAGE helps me get focused on what I am currently doing
by being more accountable to complete my priorities." - Ann

Updated: Oct 10, 2020
* Professional Architectural Practice 2020:

- Currently involved in medium-rise, high-density housing projects (for 90+ families). One project is on turn-over stage. Covid lockdown still have effects on processes.

- Working on a three-storey residential design.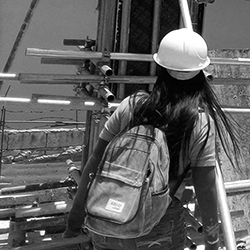 * Artmusicworks.com 2020:

Sporadic updates will resume now after I have competed/submitted a one-month school-related piano commitment for my girl.
D.I.Y. ORIGINAL MUSIC:

Arhythmetic Projects:

Odd-time-signatured music:
- Started my 6th single days ago tentatively entitled "Aftermath" because I can't let the idea go. Guitar parts around 40%. 7/8 odd time signature.
- Still working on my 5th single, "Monochrome." Music is 85% done, lyrics 95%. Key signature is 7/8. Initially composed out of chord fragments, finger picked guitar playing. Hope it becomes my first-released progressive music. Been wanting to let out one for a long while.
- Three (3) mock music in the old drafts are in line with the above music project.
- Learning to shift to Ableton DAW. It's a hard transition from my favorite old DAW...
ARTWORKS:
- Fart Terminology" Comic Strips: Completed 25 digital linearts, 10 colored strips posted. 1 strip not posted. ART updates & blogs will definitely slow down.

* Personal 2020:

- Constantly plays guitar/piano (I returned back to minutes of Hanon daily)
- Constantly drafts concepts, sketches, riffs, on sketchpad/notebooks
- Plays Spotify while working. Likes Playlisting.
- Tweeting (more lately) for fun stuff/promo. I stopped posting regularly on FB.
- I don't watch TV except some news
- Bikes when I buy stuff
- Dumbells every other day, 20 to 30 minutes
- Married with 1 child
- How do I do it all? One at a time. There is no other way.

What am I reading?
- Seth Godin's Daily Blog (takes a minute to do)
- Sive.rs site
- Spreading the Idea Virus by Seth Godin

Recently finished books:
- "Steal Like An Artist" by Austin Kleon
- "Your Music & People" & "Hell yeah or No" by Derek Sivers;
- "The War Of Art" by Steven Pressfield